Y-12 National Security Complex / Oak Ridge National Laboratory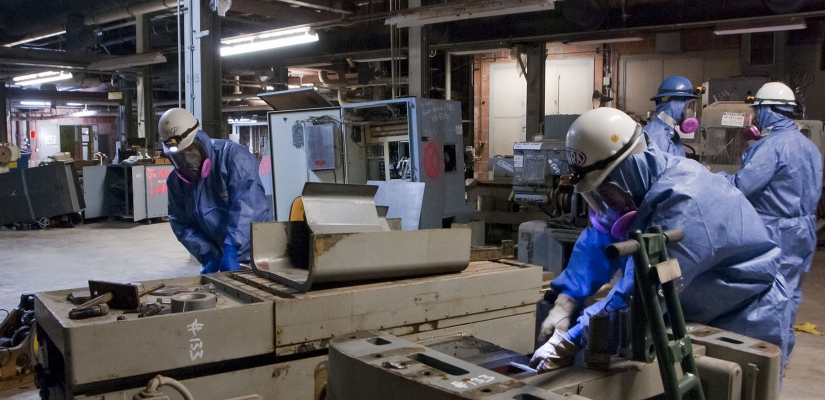 The Y-12 National Security Complex is a manufacturing facility located in Oak Ridge, Tennessee. For six decades, Y-12 has been a national center for handling, processing, and storing highly enriched uranium. Stockpile management activities include production, maintenance, refurbishment, dismantlement, evaluation, and storage of certain components of nuclear weapons.
Oak Ridge National Laboratory is the Department of Energy's largest science and energy laboratory. ORNL was established in 1943 as a part of the Manhattan Project to pioneer a method for producing and separating plutonium. During the 1950s and 1960s, ORNL became an international center for the study of nuclear energy and related research in the physical and life sciences. With the creation of DOE in the 1970s, ORNL's mission broadened to include a variety of energy technologies and strategies. ORNL also is engaged in the treatment and disposition of legacy radioactive wastes and nuclear materials stored at the site.
Oak Ridge National Laboratory Website
Abbreviation

Y-12/ORNL

Location

Oak Ridge

,

TN

United States

35° 55' 52.7016" N, 84° 18' 45.378" W

Tennessee US

Website
Primary Function

Uranium Component Manufacturing and Storage. Research and Development.

Ongoing Operations

Stockpile stewardship and nuclear weapon component surveillance; weapon component assembly, dismantlement, and disposition; uranium processing; nuclear materials management and storage. Research in energy technologies and physical and life sciences; treatment and disposition of legacy radioactive wastes and nuclear materials.

Status
Resident Inspector Weekly Reports
| Date | Name | File |
| --- | --- | --- |
| | Oak Ridge Week Ending September 15 2023 | PDF |
| | Oak Ridge Week Ending September 8 2023 | PDF |
| | Oak Ridge Week Ending September 1 2023 | PDF |
| | Oak Ridge Week Ending August 25 2023 | PDF |
| | Oak Ridge Week Ending August 18 2023 | PDF |
Related Letters

| Date | Title | Document |
| --- | --- | --- |
| | E-mail and statement concerning the Y-12 National Security Council | PDF |
| | Letter concerning the Y-12 National Security Complex/UPF | PDF |
| | Statement on behalf of the Oak Ridge Chamber of Commerce | PDF |
| | Opening Statement | PDF |
| | Letter from Association of Tennessee Valley Governments | PDF |
| | Statement concerning Aging Infrastructure | PDF |
| | Statement concerning Emergency Response/Nuclear Operations | PDF |
| | Letter on behalf of the City of Oak Ridge | PDF |
| | Letter on behalf of the City of Oak Ridge | PDF |
| | Letter concerning the Y-12 National Security Complex | PDF |
| | Letter concerning Whistleblowers/Safety at the Y-12 National Security Complex | PDF |
| | Letter on behalf of the Anderson County Government | PDF |
| | DOE Response to August 26, 2013, Board Letter also enclosing "Open Issues with the Uranium Processing Facility (UPF) Safety Basis" | PDF |
| | Board Letter Concerning the Transuranic Waste Processing Center Sludge Processing Facility Buildouts (SL-PFB) Project at Oak Ridge National Laboratory | PDF |
| | Oak Ridge Environmental Peace Alliance letter and newsletter | PDF |
| | Letter from Dr. Anthony Wise, Dr. Chris Whaley | PDF |
| | Letter from Ronald B. Woody | PDF |
| | Letter from Ronald Woody, Roane County Executive | PDF |
| | DOE Letter in Reference to Board August 26, 2013, Letter Concerning the Updated Safety Basis and Design Information for the Uranium Processing Facility (UPF); DOE will further Respond 30 Days after the Board's Public Meeting of October 2013 | PDF |
| | Supplemental and Final Response to Questions Taken for the Record | PDF |
| | Letter for the record | PDF |

| Date | Title | Document |
| --- | --- | --- |
| | DOE Response to Board September 6, 2012, Letter which Issued a Reporting Requirement Concerning NNSA's Approach to Validate the Modeling Assumptions at the Uranium Processing Facility (UPF) Main Building, Y-12 National Security Complex | PDF |
| | Letter for the record | PDF |
| | Excerpts of Questions Taken for the Record | PDF |
| | DOE Continued Safe Operating Oversight Team (CSOOT) Annual Report for the 9212 Complex at the Y-12 National Security Complex | PDF |
| | Emailed letter for the record | PDF |
| | Letter for the record | PDF |
| | Emailed letter for the record | PDF |
| | Public Hearing Written Statement | PDF |
| | Public Hearing Written Statement | PDF |
| | Public Hearing Written Statement | PDF |
| | Public Hearing Written Statement | PDF |
| | Statement on behalf of the Y-12 Community Relations Council (restated from October 2, 2012 Public Hearing) | PDF |
| | Pig in the Poke image | PDF |
| | Email for the record w/attachments | PDF |
| | Letter for the record | PDF |
| | Letter for the record | PDF |
| | Emailed letter for the record | PDF |
| | Emailed letter for the record | PDF |
| | Letter for the record | PDF |
| | DOE Letter Follow up on DOE May 2, 2012, Letter Response to Board April 2, 2012, Letter Concerning the Safety Control Set and Preliminary Safety Design Report for the Uranium Processing Facility at the Y-12 National Security Complex (Y-12) | PDF |
| | DOE Response to Board Letter of December 29, 2011, which Issued a Reporting Requirement Concerning Activity-Level Work Planning and Control at the Y-12 National Security Complex | PDF |
| | DOE Response to Board April 2, 2012, Letter Concerning the Safety Control Set and Preliminary Safety Design Report for the Uranium Processing Facility at the Y-12 National Security Complex (Y-12) | PDF |
| | Board Issues a Reporting Requirement Concerning NNSA's Approach for Demonstration of the Adequate Integration of Safety in the Preliminary Design for the Uranium Processing Facility (UPF) at the Y-12 National Security Complex | PDF |
| | DOE Request for an Extension of 60 Days to Respond to Board Letter of December 29, 2011, which Issued a Reporting Requirement Concerning Work Planning and Control Issues at the Y-12 National Security Complex | PDF |
| | DOE Response to Board August 25, 2011, Letter which Issued a Reporting Requirement Concerning Weaknesses with Technical Procedures and their Implementation at the National Nuclear Security Administration's (NNSA) Y-12 National Security Complex (NSC) | PDF |

| Date | Title | Document |
| --- | --- | --- |
| | Activity-Level Work Planning and Control, Y-12 National Security Complex | PDF |
| | DOE Acknowledges Board Letter of August 25, 2011, and Notifies Board that B&W Y-12 has Drafted a Conduct of Operations - Performance Improvement Plan | PDF |
| | DOE Forwards the Facility Risk Review Follow-on Evaluation for Building 9212 at Y-12 | PDF |
| | Technical Procedures, Y-12 National Security Complex | PDF |
| | DOE Response to Board Letter of April 20, 2011, Concerning the Safety Posture of the Y-12 National Security Complex | PDF |
| | DOE Request for an Extension for the Delivery of a Report Responding to the Board's April 20, 2011, Letter Concerning Safety Posture of the Y-12 National Security Complex | PDF |
| | DOE Response to Board February 4, 2011, Letter Regarding Storage of Non-MAA Material at the Y-12 National Security Complex | PDF |
| | Board Issues a Reporting Requirement for a Report and Subsequent Briefing within 90 Days Addressing Y-12 Contractor's Change in Approach on non-MAA Materials in Building 9720-5 | PDF |

| Date | Title | Document |
| --- | --- | --- |
| | DOE Requests Extension to Complete Report Relative to Board Letter Dated October 15, 2001 Regarding Integrated Safety Management System at Oak Ridge | PDF |
| | Board Issues Reporting Requirement that DOE Provide a Report withing 45 Days for Independent Assessment of the Adequacy of the Authorization Basis and Safety Posture for each of Bechtel Jacobs Company's Defense Nuclear Facilities | PDF |
| | Readiness to Start New Disassembly Campaign at the Y-12 Site | PDF |
| | Preparations for the Phase I Uranium-233 Inspection and Repackaging Program at the Oak Ridge National Laboratory | PDF |
| | Project Management Plan for tye Y-12 Fire Protection Program Comprehensive Corrective Action Plan | PDF |
| | BWXT Y-12's Project Plan for Ten Year Non-MAA Storage Management Program | PDF |
| | DOE Provides an Interim Response to the Board Letter Dated May 29, 2001 Relative to Hazardous Material Storage at the Y-12 National Security Complex | PDF |
| | DOE Reports Completion of Commitment 27 of Implementation Plan 2000-2 | PDF |
| | DOE Provides an Interim Response to Board Letter Dated June 28, 2001 Regarding the New Dismantlement Campaign at the Y-12 National Security Complex | PDF |
| | DOE Response to Board Letter Dated March 15, 2001 Regarding Concerns Relative to the Maintenance Program at the Y-12 National Security Complex | PDF |
| | DOE Response to Board Letter Dated April 30, 2001 on the Quality and Adequacy of the Authorization Bases for the Defense Nuclear Facilities at the Y-12 National Security Complex | PDF |
| | Fire Protection Program at the Y-12 Plant | PDF |
| | DOE Letter Responding to Board Letter Dated March 15, 2001 Regarding Concerns with the Maintenance Program at Oak Ridge Y-12 National Security Complex | PDF |
| | DOE Forwards a Classified Report on Y-12 W56 Dismantlement Campaign (U) | PDF |
| | DOE Letter Updating the Board on the Y-12 W56 Dismantlement Campaign | PDF |
| | Board Letter Identifying Unresolved Issues at Y-12 Plant | PDF |

| Date | Title | Document |
| --- | --- | --- |
| | DOE re: Board Staff Review on the Fire Protection Program at the Y-12 Plant | PDF |
| | DOE re: Classified Board Staff Report on the Y-12 Dismantlement Campaign | PDF |
| | DOE Responding to Board Letter Dated June 5, 2000, on the Chemical Safety Program and Various Chemical Safety Issues at the Y-12 Plant | PDF |
| | DOE Responding to Board Letter Dated August 30, 2000, on the Preparations for the Resumption of the Enriched Uranium Reduction Process at the Y-12 Plant | PDF |
| | Board Commends Dr. Robert I. Van Hook, Jr. on the Occaision of his Retirement from Lockheed Martin Energy Systems | PDF |
| | DOE Response Board Letters Dated March 30, 2000, and May 30, 2000, Regarding the Design and Construction of the Hydrogen Fluoride Supply System Project at the Y-12 Plant in Oak Ridge | PDF |
| | DOE Delay in Schedule for the Inspection and Repackaging Program Activities Involving Uranium-233 Inventory in Building 3019, Oak Ridge | PDF |
| | Board re: Hydrogen Fluoride Suppy System at the Oak Ridge Y-12 Plant | PDF |
| | DOE Response to Board Letter Dated November 9, 1999, Regarding the Safety Management Deficiencies and Project Management at the Y-12 Plant | PDF |
| | DOE Report on the Validation Study on the Oak Ridge National Laboratory Fire Protection Department Baseline Need | PDF |
| | DOE Response to Board Letter Dated November 2, 1999, on the Review of Ventilation Systems in Building 3019 Used for Safe Operations and Long Term Storage for Uranium-233 at the Oak Ridge National Laboratory | PDF |

| Date | Title | Document |
| --- | --- | --- |
| | DOE Response to Board Letter Dated November 2, 1999, Regarding Increasing oncerns on Building 9206 at the Oak Ridge Y-12 Plant | PDF |
| | DOE Compliance Evaluation and the Disposal Authorization for SWSA-6 Low-Level Waste Disposal in Tumulus I & II and IWMF at Oak Ridge Reservation in Completion of Commitments VII.B.5.b.1, 2, 3 Relative to 94-2 and Proposing Closure of Commitments | PDF |
| | Board's Increasing Concern Regarding Two Problems that Threaten the Schedule for Stockpile Stewardship that Affects Operations at Pantex and Y-12, Oak Ridge | PDF |
| | DOE Developments Relating to the Issues Raised on the Review of Chemical Hazards Assessments at the Y-12 Plant, Oak Ridge | PDF |
| | DOE Plans to Review the Fire Department Staffing Needs at Oak Ridge National Laboratory on November 15, 1999, and the Composition of the Team Performing the Review | PDF |
| | DOE Oak Ridge National Laboratory Final Site Assessment Report for the 97-1 Implementation Plan | PDF |
| | DOE Updated Listing of Safety-Related Systems and Their Y2K Status | PDF |
| | Board Grants Closure of Recommendation 94-4 | PDF |
| | Board Commends Mr. Joseph W. Parks on the Occasion of his Retirement after Many Years of Dedicated Service | PDF |
| | DOE Quarterly Report 16 and Proposal to Close Recommendation 94-4 | PDF |

| Date | Title | Document |
| --- | --- | --- |
| | Board Letter Forwarding Regarding Designated Phase A2 Restart Activities | PDF |
| | DOE Forwards July 1998 Deliverables per the 94-4 Implementation Plan | PDF |
| | DOE Forwards Occurrence Reports Related to Inadequate Work Controls at the Y-12 Plant | PDF |
| | Board Letter Regarding Restart of Certain Operations, Designated Phase A1 for EUO | PDF |
| | Board Letter Regarding EUO at the Y-12 Plant, Establishing a 60-Day Reporting Requirement on Unusual Occurrences Related to Issues of Operations Management's Congnizance of Maintenance/Safety Activities of Facilities | PDF |
| | DOE Quarterly Report 13 Fulfilling Commitment 7.1 per the 94-4 Implementation Plan | PDF |
| | Board Letter Announcing Assignment of Paul F. Gubanc as Site Representative at the Oak Ridge Operations Office | PDF |
| | DOE Forwards the ORNL Initial Site Assessment Report (Enclosed) per the 97-1 Implementation Plan | PDF |
| | DOE 12th Quarterly Report which Fulfills Commitment 7.1 for Recommendation 94-4 | PDF |
| | Review of Safety-Related Systems and Safety Management Programs for Restart of Enriched Uranium Operations at Y-12 | PDF |
| | DOE Quarterly Report 11 for Implementation Plan 94-4 | PDF |

| Date | Title | Document |
| --- | --- | --- |
| | DOE Changes to Recommendation 94-1 for the Safe storage of Potentially Critical Materials at Two Facilities at the Oak Ridge Reservation | PDF |
| | DOE Commitment Status for Recommendation 94-2 | PDF |
| | DOE Commitment Status for Recommendation 94-2 | PDF |
| | DOE Tenth Quarterly Report, 94-4 Implementation Plan | PDF |
| | DOE Video on Lessons Learned Regarding Welding and Cutting Fatality at the Oak Ridge K-25 Facility | PDF |
| | DOE Proposal for Closure of Recommendation 95-1 | PDF |
| | Board Concerns Related to Final Safety Analysis Reports Addressing Storage of Depleted Uranium hexaflouride (UF6) at Oak Ridge, Prepared Pursuant to the 95-1 Implementation Plan | PDF |
| | DOE Final Safety Analysis Report and Safety Evaluation Reports for the 95-1 Implementation Plan | PDF |
| | DOE Forwards Four Deliverables for January 1997, for the 94-4 Implementation Plan | PDF |
| | DOE Response to Board's Concerns over the In-Process HEU Materials Stored at the Y-12 Plant, Oak Ridge | PDF |

| Date | Title | Document |
| --- | --- | --- |
| | Board Addresses the Problems with Storage of Cylinders Containing Depleted Uranium Hexafluoride for the 95-1 Implementation Plan | PDF |
| | DOE Forwarding July 1996 Deliverables for the 94-4 Implementation Plan | PDF |
| | DOE Forwards the Cylinder Program Management Plan per the 95-1 Implementation Plan | PDF |
| | DOE Review of Start-Up Activities at Y-12 | PDF |
| | DOE Completion of Deliverable, Commitment 5.5 for the 94-4 Implementation Plan | PDF |
| | DOE Report on Training Assistance Team Visit for Contractors at the Y-12 Plant for the 94-4 Implementation Plan | PDF |
| | DOE Forwards UF6 Cylinder Program Engineering Development Plan for 95-1 | PDF |
| | DOE Provides the Current Status of the Office of Oversight's Deliverables for the 94-4 Implementation Plan | PDF |
| | Board re: Highly Enriched Uranium Processing at the Oak Ridge Y-12 Plant | PDF |
| | DOE Fifth Quarterly Report for the 94-4 Implementation Plan, January 1 - March 31, 1996 | PDF |
| | DOE Reporting Completion of 94-4 Implementation Plan Commitment N.4.2. | PDF |
| | DOE Cylinder Program Systems Engineering Management Plan for Recommendation 95-1 | PDF |
| | DOE Provides Six 94-4 Implementation Plan Deliverables for January 1996 | PDF |
| | DOE Comments on the Resumption of Receipt, Shipping, and Storage Operations at the Y-12 Plant | PDF |
| | DOE Commitment 5.3 Deliverable for 94-4 Implementation Plan | PDF |
| | DOE re: Completion of Task N.2.5 of Implementation Plan 94-4 | PDF |

| Date | Title | Document |
| --- | --- | --- |
| | DOE's Fourth Quarterly Report per the 94-4 Implementation Plan | PDF |
| | Board Staff Trip Report for the Y-12 Plant and LMES Preparations for Receipt, Storage and Shipment Restart | PDF |
| | DOE Forwards Deliverables for November 1995 per the 94-4 Implementation Plan | PDF |
| | DOE Special Review of the Molten Salt Reactor Experiment at ORNL | PDF |
| | Completion of Commitment 3.2 per the 94-4 Implementation Plan | PDF |
| | DOE Memorandum on the Y-12 Site Office Restart Team (YSORT) Receipt, Storage, and Shipment (RSS) Closure Report | PDF |
| | DOE's Assessment Report of Lockheed Martin Energy System Conduct of Operations per the 94-4 Implementation Plan | PDF |
| | DOE Letter Transmitting ES&H's Office of Oversight Training Team Assessment Plan & Report for the EH Residents at the Oak Ridge SIte | PDF |
| | DOE's Third Quarterly Report per the 94-4 Implementation Plan | PDF |
| | DOE Forwards the October Deliverables per the 94-4 Implementation Plan | PDF |
| | DOE Memorandum Regarding the October Deliverables, Task N.4.2., per the 94-4 Implementation Plan | PDF |
| | DOE Forwards Commitment N.2.3 per the 94-4 Implementation Plan | PDF |
| | DOE Conduct of Operations Assessment Plan per the 94-4 Implementation Plan | PDF |
| | DOE Third Quarterly Report per the 94-4 Implementation Plan | PDF |
| | DOE Concerns Resumption of Nuclear Operations at Y-12 Plant | PDF |
| | DOE Forwards Deliverables for Commitments 2.1, 3.4, 3.1 and 7.1 per the 94-4 Implementation Plan | PDF |
| | DOE Deliverable Quarterly Report 2 for the Reporting Period April 1 through June 30, 1995 | PDF |
| | DOE Forwards ES&H Response to Recommendation 94-4 | PDF |
| | Criticality Safety Assessment Program for Defense Nuclear Facilities Safety Board Recommendation 94-4 Deficiencies in Criticality Safety at Oak Ridge Y-12 Plant | PDF |
| | DOE Forwards May 1995 Deliverables for 94-4 Implementation Plan | PDF |
| | DOE Forwards Rocky Flats Response to 94-4 Implementation Plan | PDF |
| | DOE Forwards April Deliverable for 94-4 Implementation Plan | PDF |
| | DOE Forwards 94-4 Implementation Plan Deliverable N.1.1 | PDF |
| | DOE Forwards the 94-4 Implementation Plan Quarterly Status Report Ending March 31, 1995 | PDF |
| | Board Accepts 94-4 Implementation Plan | PDF |
| | DOE Forwards 94-4 Implementation Plan | PDF |
| | DOE Preliminary Report to Respond to Recommendation 94-4 | PDF |
| | DOE Forwards the Corrective Action Plan Fulfilling Commitment 5.3 per the 94-4 Implementation Plan | PDF |
Related Past Public Hearings & Meetings